Whether you are a PE instructor, school administrator, teacher or parent, the information provided below will help you understand the new requirements, implement the assessment successfully, and communicate the appropriate information.
About the SHAPE Fitness Assessment: Learn more about the law, the assessment tool, and the report.

SHAPE Training: Professional face-to-face trainings were conducted statewide for the 2011-2012 school year through SHAPE training partner HealthMPowers.  Below are links to the training material, webinars, and additional training opportunities.

Quick Tips and Tools for Success: A selection of resources from the training manual.
Want to do more? Promote physical activity and healthy eating! presentationslides to download the presentation.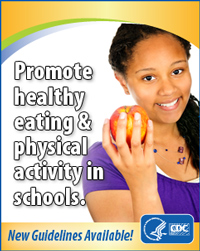 Keep Your Kids Moving (0:59) 6/16/2011
A recent CDC study found that only about one in 10 high school students is getting enough exercise. This podcast discusses the importance of an active lifestyle and healthy diet for teens.

Keep Your Kids Moving (4:23) 6/16/2011
If you think your child spends too much time playing video games or watching TV, you're probably right. A recent CDC study found that only about one in 10 high school-aged students is getting enough exercise. In this podcast, Dr. MinKyoung Song discusses the importance of teenagers getting enough exercise.

 Active Children and Adolescents: The Physical Activity Guidelines in Action (7:46) 5/24/2010
This video provides "real life" examples of the HHS 2008 Physical Activity Guidelines for Americans. It provides an overview of the scientific guidelines; shows youth of various ages engaging in a range of moderate- and vigorous-intensity aerobic activities, muscle-strengthening activities, and bone-strengthening activities; and emphasizes the importance of school, community and family involvement in youth physical activity.