The Golden Radish Award is given to Local Educational Agencies (LEAs) in Georgia who are doing extraordinary work in farm to school. The Award is presented by the Georgia Department of Education, Georgia Department of Agriculture, Georgia Department of Public Health, the UGA Cooperative Extension, and Georgia Organics. Winning LEAs are recognized by the leaders of these five groups every October.
LEAs are recognized at five levels. Platinum, Gold, Silver, and Bronze Radishes are awarded to recognize LEAs with varying levels of farm to school programs. Honorary Radishes are awarded to programs that are just getting started and satisfy at least 1 criterion within the Bronze level or higher. LEAs that satisfy the Gold level for all ten criteria are awarded a Platinum Radish. An additional award, the Outstanding Award, is given to the district/LEA with the outstanding farm to school program.
Learn about the impact the Golden Radish Awards has on state wide farm to school activities by reading our Farm to School Program Report.
---
On September 17, 2019 Georgia Department of Public Health, Georgia Shape will recognize 90 Georgia school districts with outstanding Farm to School accomplishments at the Golden Radish Awards. Tune into @GeorgiaOrganics Instagram livestream at 9:15 a.m. to watch this momentous occasion live! The Georgia Department of Public Health will also present the Innovative Community Partnership Award. 
About the Golden Radish Award Application Process
Please note the below documents are for planning purposes only. The online application for the 2019 Awards is closed. 
1. Review the Award Criteria for your size district/LEA
2. Review the Golden Radish Award Criteria Explanations. Interested in learning more about how other LEAs met the criteria in prior years? Click here to view best practices from the 2018 Golden Radish Awardees.
3. Collect relevant district-wide information and documentation for award criteria. Be sure to provide information on how your district works with sustainable and/or Certified Organic farms, innovative ways you partner with your community or utilize your school gardens, and any extraordinary farmers you work with to be eligible for an additional Best Practice Award. Note: Honorary Radishes are awarded to programs that satisfy at least 1 criterion within the Bronze level or higher. Districts are only be eligible to receive an Honorary award for two years.
4.  View a word document version of the 2018 Application. Please note, that the word document is for planning purposes only. The 2019 application will be released in February.
5. Questions? Review these Frequently Asked Questions or contact Farm to School Director Kimberly Della Donna at [email protected] for more information.
Congratulations to the 84 school districts awarded at the 2018 Golden Radish Award Ceremony!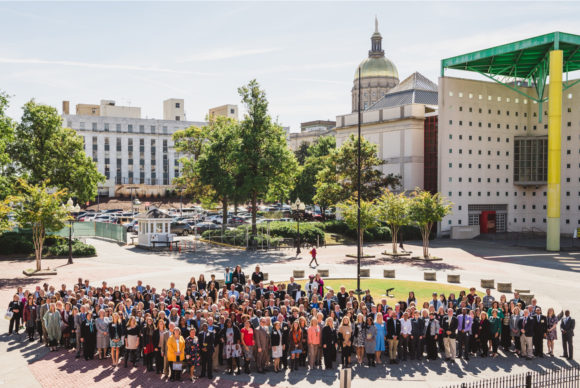 More than 45 percent of Georgia school districts were recognized for their farm to school work during the 2016-2017 school year.

Carrollton County Schools was recognized as the 2018 Outstanding Farm to School District.

Learn more about the individual accomplishments of the 2018 Golden Radish Award winners and check out photos from the Award Ceremony here.