Power Up for 30 Day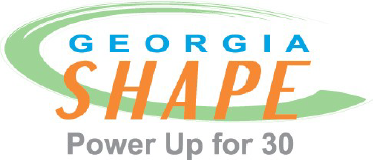 September 27, 2019 is Power Up for 30 Day, a day to promote physical activity, health, and academic achievement in our schools, early care and education centers, out-of-school-time organizations, businesses and the community. At 9:30AM, we encourage your school or organization to participate in the statewide Power Up for 30 MOVEment! Short physical activity brain booster videos will be provided here! Complete all brain booster videos to get 30 minutes of physical activity for the day!

Individuals are encouraged to share photos/videos of participation in Power Up for 30 Day via social media (Facebook, Twitter, and Instragram) by using the following:
@GeorgiaShape  #PU30Day
Include your school name and district in the post for a chance to win a prize pack for your school!
 Power Up for 30 A Success in Georgia!!
Power Up for 30 is a statewide initiative supported by the Georgia Departments of Public Health (DPH) and Education (DOE) to increase physical activity before, during and after the school day in schools across the state.  Using the Comprehensive School PA Program Model (CSPAP) promoted by Centers for Disease Control and Prevention, school staff learn how to integrate an additional 30 minutes or more of physical activity before, during, and/or after school. Since 2013, HealthMPowers has served as the training partner for this initiative. To date, 881 elementary schools have engaged in Power Up for 30, resulting in 1,898 teachers and administrators receiving direct professional development and more than 467,626 Georgia elementary school students impacted. Georgia middle schools and out-of-school time organizations can now also join the movement! CLICK HERE to find out why your school should Power Up For 30! 
Click here for information on available trainings, or to sign up for a Power Up for 30 training by emailing [email protected] today! 
---
 Did you miss previous Power Up for 30 Days (2015, 2016, 2017)?
Check out the #PU30Day hashtag on social media to see all the fun photos and videos submitted by elementary schools across the state who participated in the four, free brain boosters to integrate more physical activity into the school day. We also created a FACEBOOK ALBUM here to highlight all the active classrooms.

The four video messages and brain boosters are still available here.